Want an insider's guide to Music City? Look no further. This Local's Look at Nashville comes from one of Nashville's coolest couples, Allyson & Lyle Phillips. As you know, one of our core values at mr.&mrs.h is living life with passion and adventure. We were so excited for these two to give to give us a tour of their city because that's the way they "do life" in Nashville -- full of passionate purpose and adventure. Who better to show us around?
MMH: To start, what do you love about Nashville?
A&LP: We love so much about Nashville. We love the effortless meld of both big city and small community vibe. The people seem to be so unique due to the artistic and musical draw that Nashville seems to have. We love how comfortably southern yet cultured the city feels.
MMH: Food+Beverage:
Favorite _______?
A&LP:
➺
Breakfast
- We love
The Perch
. It's a little crepe and omelette restaurant in Brentwood. It is small building that is always bustling with people
.
➺
Lunch
-
Burger Up
. Hands down, a Nashville favorite. We love the atmosphere and the local beef and produce served at this hip burger joint. They have two locations and both are always busy. They have homemade ketchup and a burger called the Black and Blue burger that is just to die for!
➺
Dinner
- This is a toss up between two Asian restaurants,
Peter's Sushi
and
Fulin's Asian Cuisine
. Peter's has amazing sushi and dishes and they always seem to be busy! Fulin's is a bit less popular, but has just as amazing food and service. We love going to both places for dinner. We are huge fans of Asian food!
➺
Coffee shop
-
Fido
in Hillsboro Village in downtown Nashville has always been a favorite. Aside for having wonderful local coffee, including a honey latte that is to die for, they also have wonderful food and they serve breakfast all day long. So good!
➺
Health/Wellness
-
The Juice Bar
in Brentwood. It has all organic fruits and veggies in it's hand crafted juices and smoothies!
And, it's just a block away from
The Perch
.
➺
Bakery
-
The Flour Shop
is an absolute darling bakery in Brentwood. Iris, the owner, makes beautiful cakes, cookies, and other baked goods!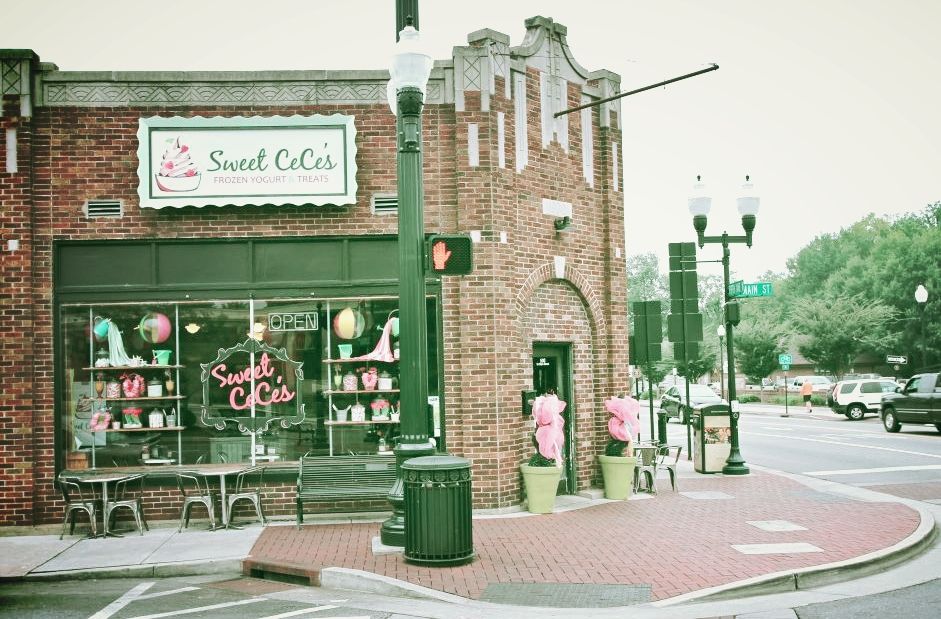 ➺
Sweet spot (ice cream, cupcakes, dessert spot, etc.)
-
Sweet Cece's
is our favorite frozen yogurt place. When in Nashvlille it's a must visit! Especially the original store in Franklin!
➺
Dive
-
Thai Phooket
. It's an amazing dive in Nashville. It serves amazing authentic Thai food. It never disappoints!
MMH: Favorite shops? What are their goods?
A&LP:
This one is a definite tie between
Imogen + Willie
and
Pangaea
. Imogene + Willie has amazing raw denim. They are a little expensive; however, for all the wear you will get out of a pair, it is worth every penny! Pangea is a boutique store. It has tons of women's clothing and jewelry for girls with daring taste. It has a Free People vibe with a local twist!
MMH: Your favorite area in Nashville (neighborhood, part of town, etc.) and why?
A&LP:
We love most of Nashville but one our favorite places to venture around and hang out is definitely
East Nashville
! It has a ton of thrift stores and adorable vintage stores. It also has beautiful houses and amazing restaurants!
MMH: Your "must see or do" while in Nashville.
A&LP:
We think everyone who visits town must see a local show! Any given night in the city you can find a good local show with local talent.
Blue Bird Cafe
is a must go to if you want to hear amazing talent!
MMH: Are there any cool markets (farmers markets, flea markets, etc)?
A&LP:
There are a couple markets in Nashville. The
Farmers' Market
is a popular one in Downtown! They always have tons of amazing produce and products!
MMH: What's your favorite greenspace in your city (park, outdoor area, etc.)?
A&LP:
We love
Centennial Park
! There is a ton of green lawn to hang out on and there are always fun things going on at the park year round including Swing Dancing and plays! There is also a replica of the Parthenon that always attracts visitors.
MMH: Your perfect Saturday (or Sunday) in Nashville looks like...?
A&LP:
For us Sundays are unique! We rest during the day and then we get to go to our Sunday night service of the
church
we pastor. It is our favorite day of the week!
MMH: Is there a touristy spot that's actually worth the visit while in Nashville?
A&LP:
Opryland Hotel
, especially if you come during Christmas! The lights that they put up are beautiful and romantic! It's also an amazing place to stay while visiting!
MMH: Is there anything/anywhere that you'd tell a friend not to miss while visiting Nashville?
A&LP: Don't miss out on the charm of Nashville. Get out and go explore. The city is beautiful and so are the outskirts of the city!


Allyson and Lyle, thanks so much for sharing your love for you city and your insider tips! This makes us want to plan a trip to Nashville asap!!